Tiger 3: Shah Rukh Khan will be back with Salman for "Tiger 3" in June, fans are looking forward to seeing the two together…
Bollywood King Khan is in talks for his upcoming "Pathan" movie. Recently, Sahrukh Khan had revealed his first appearance, in which everyone was surprised to see his body and look. Meanwhile, the news comes that "Tiger 3" with Salman Khan will be back soon. Seeing Salman Khan and Shahrukh Khan together again on the big screen after so many years will be nothing short of a delight for fans.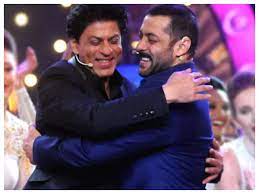 Shahrukh Khan will appear to make a cameo in "Tiger 3" and Salman in "Pathan". This is a unique way to end the long-standing animosity between the two. Salman Khan completed the shooting for his cameo as a tiger in "Pathan".
At the same time, it is now Shahrukh's turn to finish shooting 'Tiger 3'. At the same time, Salman is shooting for Sajid Nadiadwala's film "Kabhi Eid Kabhi Diwali". In such a situation, in June they will both take a break from work and shoot for 'Tiger 3'.
King Khan returns to the big screen after four years with "Pathan". Earlier, he had appeared in the 2018 film "Zero", which did not show much. Deepika padukone and John Abraham will appear with Shahrukh in "Pathan". At the same time, Katrina and Emraan Hashmi are in the lead roles with Salman Khan in "Tiger 3".
"Typical alcohol specialist. Music evangelist. Total travel scholar. Internet buff. Passionate entrepreneur."