Samsung Electronics will showcase a high-end mobile experience based on the "Galaxy ecosystem" at the "Mobile World Congress 2023 (MWC23)" which will open in Barcelona, ​​Spain on the 27th (local time).
First, Samsung Electronics will introduce the Galaxy S23 series, released on the 17th, on a large scale and welcome visitors. A variety of exhibition booths have been arranged for visitors to experience the camera's performance and various innovative features.
Samsung Electronics has prepared a large-scale Galaxy exhibition booth with an area of ​​1745 m² (528 pyeong) in the center of Fira Gran Via Exhibition Hall 3, where MWC23 is held. The exhibition stand is set up to show off the latest mobile products such as "Galaxy S23 Ultra" and high-end laptop "Galaxy Book 3 Ultra", which were unveiled in San Francisco, USA, as well than a more powerful Galaxy ecosystem.
Samsung Electronics set up a camera studio in the exhibition hall with the concept of a film set with the pattern of "outer space" and "Seoul night" so that visitors can experience the powerful camera performance of Galaxy S23 series. Visitors can experience the unique 200 million pixel camera and "Nitography" function of the "Galaxy S23 Ultra" as if they were a director or a professional photographer in the studio.
There is also a space to experience the mobile gaming performance of the "Galaxy S23 series". Visitors can enjoy various mobile games and experience powerful product performance in an experience space created with the concept of an e-sports stadium.
Moreover, you can experience the colorful Galaxy ecosystem at the same time, such as the data-driven sleep coaching function provided by "Galaxy Watch 5", SmartThings and Samsung Pay which connects Galaxy smartphones and Samsung smart TVs, air purifiers and robot vacuum cleaners.
Additionally, Samsung Electronics showcases its "Everyday Sustainability" green vision and efforts to achieve this goal. The design history of the Galaxy S23 series, which has been used with the most recycled material among Galaxy smartphones ever, and various eco-friendly accessories can also be found together.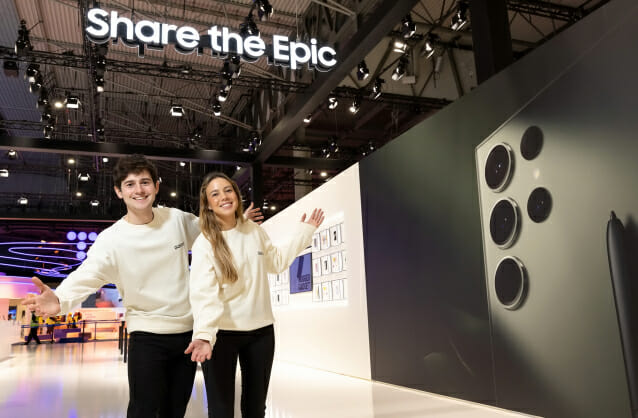 Galaxy Ecosystem introduces next-generation 5G network
Partners such as Samsung Display, Google and Qualcomm have also set up Galaxy Experience Zones in their exhibition booths and showcase various innovative parts and software such as ▲ Mobile Display ▲ Android OS ▲ Mobile Application Processor (AP ).
Samsung Display, which cooperates with Galaxy mobile display, prepares a separate exhibition booth in Fira Gran Via 2 exhibition hall and presents the innovative performance of the latest display to visitors. Visitors can directly check the durability of the UTG (Ultra Thin Glass) installed in the "Galaxy Z Fold 4" and experience the "Dynamic AMOLED 2X" screen of the "Galaxy Book 3 Series".
At the Google "Android" exhibition booth located between the 2nd and 3rd exhibition halls, you can see the partnership between Samsung Electronics and Google. First, visitors can experience Android's "hearing aid feature" on a Galaxy smartphone. When the on-site microwave oven or dishwasher shuts down, "Galaxy S23 series" and "Galaxy Z Flip 4" will recognize the shutdown alarm sound and notify them through the display and the vibrations. Additionally, with the 'Galaxy Watch 5', you can take selfies by controlling the camera of a remotely located Galaxy smartphone.
At the "Qualcomm" exhibition booth in the 3rd exhibition hall, you can experience powerful gaming performance with the "Galaxy S23 Ultra". The "Galaxy S23 Ultra" is equipped with "Snapdragon 8 2nd Generation for Galaxy" to provide more powerful usability and mobile gaming experience.
Related Articles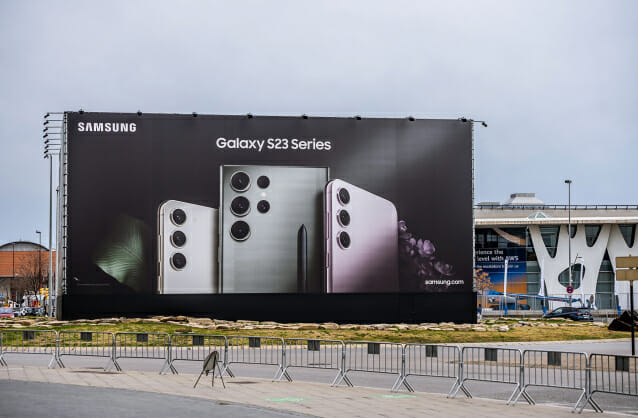 Samsung Electronics also prepared a 5G network exhibition booth targeting global telecom operators. At this event, it plans to showcase various technologies such as next-generation 5G virtualized base station, next-generation 64T64R multi-input/output base station, power-saving software solution, and power-saving solution. network automation, attracting the attention of partners. Additionally, it will also introduce a range of new high-performance networking chipsets developed by Samsung Electronics, such as 5G modem chips and RFICs.
Meanwhile, Samsung Electronics also displayed large outdoor advertisements for its latest mobile products such as "Galaxy S23 series" and "Galaxy Book 3 series" at the entrance of the MWC site. The outdoor advertisement measuring 20m in width and 9m in length was designed to feel the warmth of MWC23 even outside the exhibition hall.
"Music maven. Introvert. Bacon evangelist. Extreme writer. Internet aficionado. Travel scholar. Lifelong problem solver."