Patience paid off for two Tokyo-based stores with the help of the world's most famous spy.
Morita Tatami Mat Maker at Arakawa Ward and foot maker Anything Co. at Minato Ward began their efforts to enter overseas markets several years ago.
This year, companies have been flooded with orders from abroad and at home, as their traditional products appeared in 007's latest film, "No Time to Die".
At the climax of the film, James Bond (Daniel Craig) confronts the villain, Safin (Rami Malek), in a room whose floor is covered with tatami mats.
Safin is an ardent admirer of Japanese culture and a Noh mask and a "karesansui" rock garden also appear in the spy movie.
The rugs came from Morita Tatami, which was founded in 1933 and is managed by a three-member team: Takashi Morita, 57, his father and a craftsman.
Concerned about declining domestic demand for tatami mats, Morita added an English order form to the store's website to improve export opportunities in 2007.
In 2018, she received an order for 300 tatami mats to pave a catwalk for a Paris Fashion Week venue.
For "There is no time to die", tmade 112 rugs, each 180 cm long, 90 cm wide and 3 cm thick, in 10 days and delivered them through a furniture store in London.
"There was '007' at the end of an email subject line, but I thought it was a reference number," said Morita, a longtime fan of the spy series.
The furniture store informed Morita that the tatami mats will be used in the next James Bond movie.
Morita originally recommended Japanese washi paper twisted into yarn for carpet surfaces to make them color-resistant and water-repellent. But the client was adamant about using natural grass for the tatami surface.
Following the release of "No Time to Die" in Japan on October 1, Morita received orders from customers across Japan, including Ibaraki and Gifu counties, who said they wanted the same tatami used for the film.
"I would be happy if the reputation of foreign customers leads to a re-evaluation of the tatami," Morita said.
The film also features a scene of Q (Ben Whishaw), a British intelligence agent MI6 providing Bond gadgets, wearing a "maekake" apron while cooking at home.
Made of canvas, the blue navy apron features Mount Fuji, a rising sun, and the "Representative of Japan" in white.
The apron was made by Anything.
In 2005, the company's president, Kazuhiro Nishimura, now 48, fell in love with the traditional apron when he visited Toyohashi in Aichi Province, where canvas maekake is still made.
He learned cotton weaving techniques delivered to the Mikawa area and improved dye quality to start full-scale sales in 2006.
In 2011, a shopkeeper in a London-based grocery store loved canvas maekake during a visit to Japan.
Since then, Anything sells 500 pieces in the UK annually.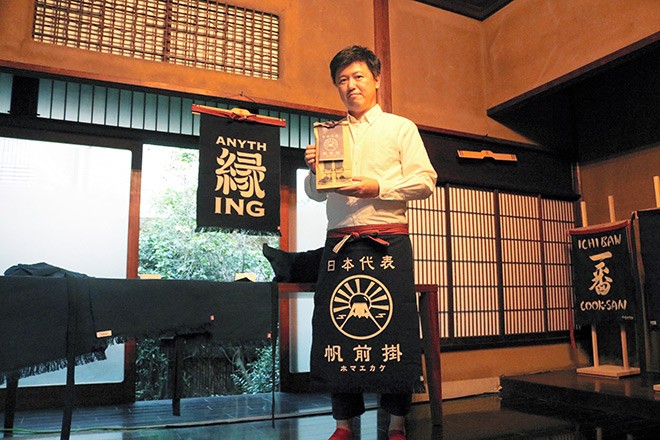 One of them caught the attention of a wardrobe staff member for the James Bond movie.
Through the grocery store, Nishimura then received an offer to use the maekake in the film.
Two weeks after the film's release, Anything received orders for 200 pieces from home and abroad, with many of the customers saying they wanted the same apron as the Q.
The company has set up booths at trade fairs outside of Japan since 2009 to promote canvas maekake. But it did not sell when there was too much emphasis on "Japaneseness".
In 2015, Nishimura changed the stand to a simple sales department lined with aprons that appeared only with the word "Maekake".
It also shows visitors how to tie the apron to the hips.
Currently, 30 percent of the company's total sales come from abroad.
"The 007 worldview, which values ​​the spirit of Japanese traditional wabi-sabi aesthetics and elegance, is similar to what we aim to achieve," he said.
"Falls down a lot. Unapologetic alcohol guru. Travel specialist. Amateur beer trailblazer. Award-winning tv advocate. Hipster-friendly twitter aficionado"