Samsung Electronics' ambitious Galaxy S23 Ultra and Apple's latest flagship, the iPhone 14 Promax, have been largely dominated by Apple. Geekbench is a benchmark program widely used to check the performance of smartphones.
As a result of downloading the latest version of Geekbench 6 and measuring CPU performance, the Galaxy S23 Ultra (hereinafter referred to as Galaxy) has a single core of 1998 and a multi-core of 5102, and the iPhone 14 Pro Max (hereinafter referred to as iPhone) has a single core of 2532 and a multi-core of 6419. . The Galaxy S23 Ultra has improved performance by a large breadth over the previous one, but it hasn't broken Apple's wall yet.
So what about battery life? As a result of comparing the remaining battery time after video playback and video recording, which consume a lot of battery, there was more battery capacity left in the iPhone.
After 3 hours of YouTube playback, the Galaxy model's battery drained faster, with the Galaxy at 86% and the iPhone at 91%. Even after 5 hours, the Galaxy battery drain rate was faster at 68% for Galaxy and 72% for iPhone. After reading, the battery level was 43% for the Galaxy and 48% for the iPhone, with about 5% more battery remaining.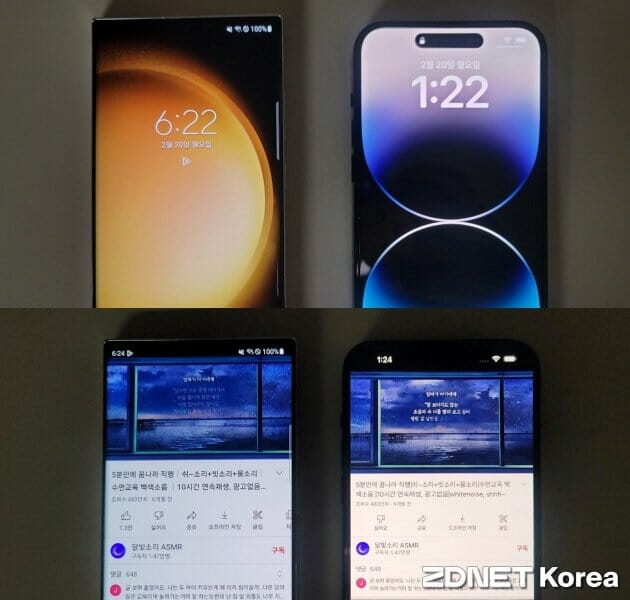 But there was something special about it. After playing a new video, iPhone battery drained faster after battery level dropped below 30%. The Galaxy only had 10% battery left, but the iPhone only had 8% battery left. After continuing to play the YouTube video at around 6:24 p.m. the day before, both models did not turn off until 10:20 a.m. the next day, 16 hours later.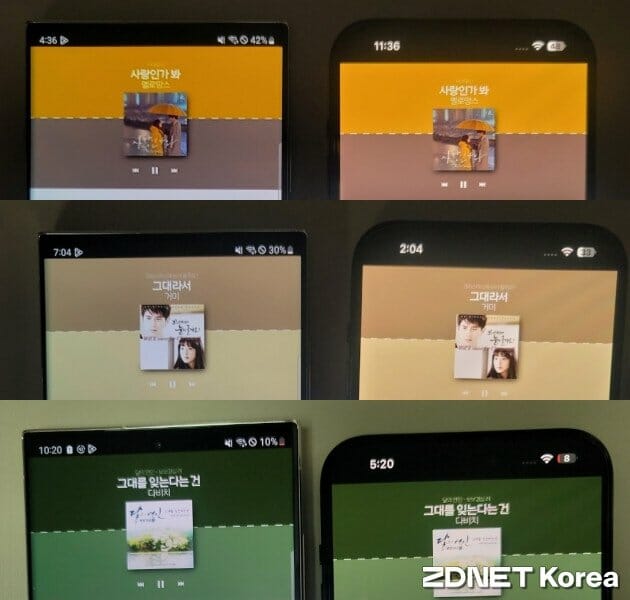 Of course, since this is a new device without any feeling of use yet, this result may be due to the fact that the battery performance is optimal, but it is interesting for consumers that both models can last a day without additional battery charging during travel time. .
Even when shooting a video where the battery drains quickly, the battery drain rate of both models was comparable.
After charging to 100%, after 3 hours of normal video recording, the battery remained at 51% for Galaxy and 49% for iPhone. After shooting an additional 30 minutes of slow-motion video, the remaining battery was the same at 39% for the Galaxy and iPhone.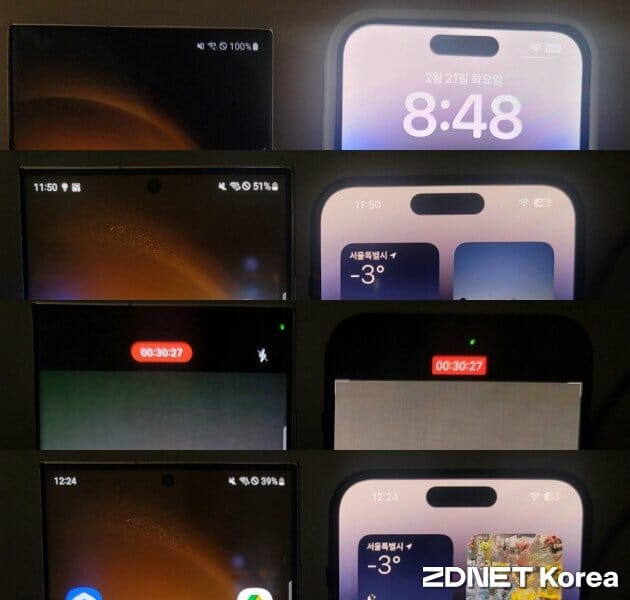 After charging to 100% the next day, I tried shooting video for 5 hours straight this time. The remaining battery was 23% for the Galaxy and 16% for the iPhone. This time the Galaxy had 7% more battery, but it's hard to see that as a big difference.
It was a rather disappointing battery time to promote that both models can shoot movies. It would be tedious to recharge your smartphone every 5 hours for an actual shoot.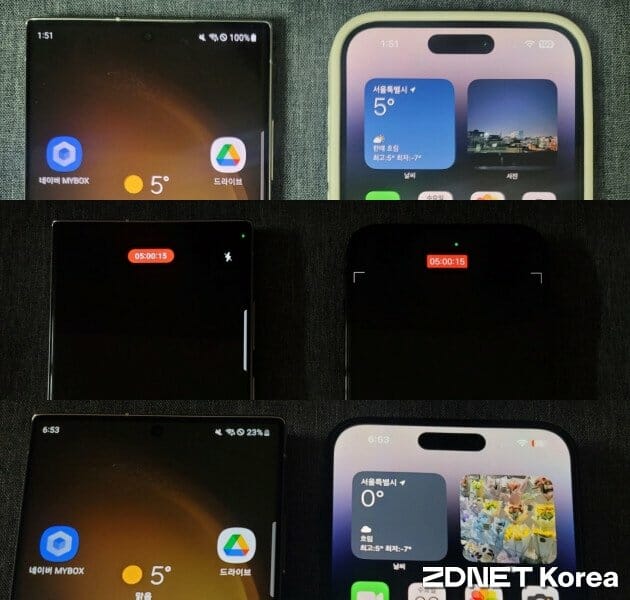 Unlike playing on YouTube, after shooting a video, both models felt a warm sensation in the device. Samsung Electronics, which was plagued by fever controversy last year, increased the size of the "steam chamber" that reduces fever by injecting refrigerant into the Galaxy S23 series. Apple also used an aluminum alloy in the center rather than a copper alloy to control heat generation.
related article
After 5 hours of shooting, when I actually touched the Galaxy and the iPhone with my hand, I didn't feel much difference in terms of heat. When the two touch each other's cheeks, it's a warm sensation to the point of feeling "hot."
Overall, battery performance doesn't seem to have a big impact on consumers choosing the Galaxy S23 Ultra and iPhone 14 Pro Max. However, it seems that there are still some homework for smartphones to replace the camera that shoots long videos.
"Music maven. Introvert. Bacon evangelist. Extreme writer. Internet aficionado. Travel scholar. Lifelong problem solver."