Volvo Cars Korea announced on the 26th that the 2024 model will be equipped with a next-generation TMAP integrated infotainment service that uses ICT technology to provide more advanced safety and a personalized travel experience.
Volvo Car Korea is the first in Korea to apply artificial intelligence (AI)-based in-car infotainment developed with T-Map Mobility and provides it as standard on all models.
You can easily control and use various infotainment services such as information search and music playback as well as route guidance via voice commands (Aria) in the car, as well as phone calls, text messages , vehicle key function settings and NUGU smart home.
The new next-generation T-map integrated infotainment service is a Korean-style service developed with T-map Mobility based on Google Android.
▲ Graphics with better visibility, ▲ T-Map 2.0 advanced navigation for safe driving, ▲ NUGU Auto 2.0 for enhanced personalized experiences, and ▲ TMAP Store supporting various entertainment have been added.
In particular, T-map navigation, which has been upgraded to the second generation, supports connected driving services which can check real-time signal information, remaining signal time and appropriate passing speed at the intersection based on Seoul's Next Generation Intelligent Traffic System (C-C'EST).
In addition, with T-map driving habits, you can check the safe driving score on the dashboard based on the driver's driving history, such as speeding, rapid acceleration, deceleration fast and night driving.
In the case of electric vehicles, an "EV Hot Key" function is added which provides information such as the number of chargers available at nearby charging stations, the number of vehicles heading to the charging station and images on spot in real time.
NUGU Auto, an artificial intelligence service that boasts an average Korean recognition rate of over 96%, has been upgraded to a more intelligent and personalized service.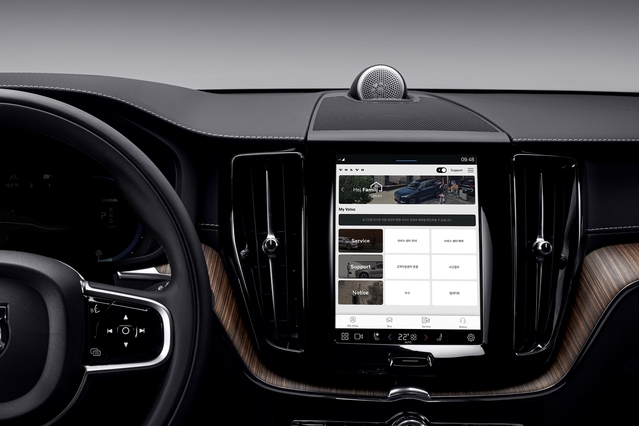 First, the "personalized recommendation service", which suggests favorite destinations or favorite routes based on individual usage history depending on the day or time zone, and the "personalized routine setting", which integrates and executes destinations, room temperature settings and music playback. , are newly added. .
Plus, you can find your very own secretary through the "Daily Briefing," which guides you through schedules and weather in conjunction with Google Calendar.
A TMAP store, where you can enjoy various entertainment contents like tablet PC through various third-party apps, is also added.
Thanks to this, you can use news, audiobooks, stock information, etc., and also supports the Norwegian Vivaldi web browser, which allows you to surf the web and watch videos in full screen.
Depending on the user's preferences, in addition to the existing FLO, Melon can be selected.
Additionally, OTT service which allows you to watch live TV and latest movies, dramas and entertainment, Wavve, In-Car Payment which allows you to bill and pay for in-vehicle fuel, vehicle management and information service center, etc. "Hej, Volvo" customer service app will be updated.
Lee Yun-mo, CEO of Volvo Cars Korea, said, "With this update, we hope to enjoy a more convenient and comfortable everyday smart mobility experience, as well as safe and comfortable driving. provide a
Meanwhile, Volvo Cars Korea plans to deliver a new digital connectivity and infotainment experience to new and existing customers through continuous system updates.
The vehicle's in-car infotainment system, which was developed by investing KRW 30 billion jointly with T-Map Mobility in 2021, can update key vehicle functions like a smartphone via wireless updates (Over- The-Air, OTA) and supports LTE for 5 years for free We also provide services.
"Music maven. Introvert. Bacon evangelist. Extreme writer. Internet aficionado. Travel scholar. Lifelong problem solver."