Samsung Electronics will update the latest operating system (OS) software "One UI 5.1.1" and "One UI 5 Watch" for existing Galaxy phones, watches and foldable tablets.
Samsung Electronics is helping more users experience the innovative features introduced in the Galaxy Z Fold 5, Z Flip 5, Tab S9 and Watch 6 series, so that some of the new features in the latest One UI can be quickly used on the existing devices. Galaxy models.
A UI 5.1.1 software update is available for Galaxy Tab S8, Tab S8+, Tab S8 Ultra, Tab S7, Tab S7+, Tab S7FE, Tab S6 Lite, Tab A8, Tab A7 Lite, Tab Active 3 and Tab Active 4 Pro during August. etc. will be applied sequentially to Galaxy tablets.
The foldable phone will be applied to Galaxy Z Fold 4, Z Flip 4, Z Fold 3, Z Flip 3, Z Fold 2 and Z Flip from the 23rd of this month. Also, some new features will be updated for Galaxy Watch series, such as Galaxy Watch 5, Watch 5 Pro, Watch 4 and Watch 4 Classic.
With the One UI 5.1.1 update, foldable phone users can easily enjoy multimedia content that was enjoyed in the existing Flex mode with enhanced features. You can set the toolbar of the Flex mode panel as you like by long pressing the toolbar icon and dragging and dropping it, and you can easily perform various functions such as split-screen display, touchpad and screen capture.
In addition, when playing media content, a button to move forward or backward for 10 seconds is displayed on the flexible mode panel, and when the time bar is touched, the time of the point the user presses is exposed so the user can move precisely to the desired position. For example, while watching a movie, you can use the custom toolbar on the Flex mode panel to rewind or fast forward with just a touch, allowing you to enjoy your favorite scenes efficiently. Additionally, the multi-window feature allows users to open a new window to reply to messages or browse online reviews, allowing them to simultaneously perform various tasks without being interrupted while watching a movie.
The multitasking function supported by foldable smartphones and tablets has also been improved to be more intuitive and easier. While watching video content, you can easily take notes by opening Samsung Note on the pop-up screen. When you're done writing, you can slide the pop-up screen aside to keep it from obstructing your view and just bring it up when you need it again.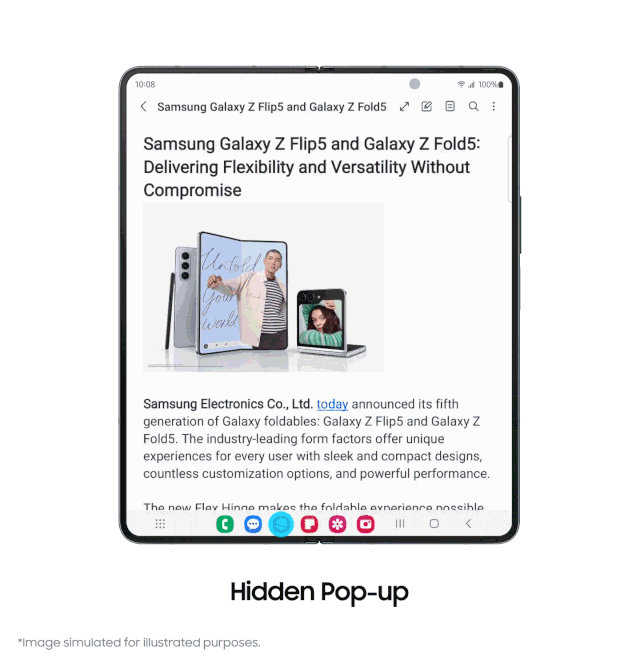 Press and hold the handle at the top of the pop-up window and drag it in the direction you want to switch to split screen and easily control the screen. Two-handed "drag and drop" is now possible on the main screen of smartphones and tablets. This makes it easy to move files or apps by holding down a file or app icon with one hand and selecting a folder or location with the other.
With this update, users can more quickly share multiple photos stored in the gallery with friends via messaging apps. In particular, Galaxy Z Fold 4 and Tab S8 users can quickly switch between favorite apps and recently used apps (up to 4) via the taskbar, increasing work efficiency.
Galaxy Watch, improved health management features and design options
With this "One UI 5 Watch" update, users can experience personalized functions for personal health management and various design options to suit their lifestyle.
The enhanced sleep management feature helps users better understand their sleep patterns through in-depth analysis of individual sleep data based on a more intuitive user interface, five factors that make up sleep score and sleep consistency. Moreover, with the "sleep support function" provided by the watch, you can easily check it on your wrist and support continuous motivation.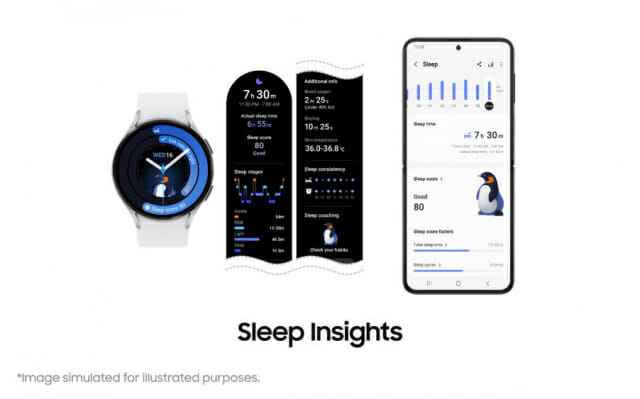 The One UI 5 watch update also introduces customizable fitness features that allow users to set and achieve personal fitness goals. The personalized heart rate zone feature analyzes the user's cardiorespiratory capacity, measures five heart rate zones, and provides a guide to maintain exercise intensity appropriate for the individual's exercise goal. Additionally, in addition to the existing 100+ exercise recording functions, a new 'track the run' function has been introduced.
related article
Additionally, with this update, existing Galaxy Watch 5 and 4 series users can use the Irregular Heartbeat Notification (IHRN) feature, which was first installed in the Galaxy Watch 6 series. You can also choose a watch face that suits your lifestyle from a variety of options. Galaxy Watch Active 2 and Galaxy Watch 3 users can also select and enjoy new watch face options such as Stretch Time and Perpetual.
Samsung Electronics said, "This One UI update is part of Samsung's ongoing efforts to strengthen the Galaxy ecosystem to maximize mobile productivity and user entertainment experiences.
"Music maven. Introvert. Bacon evangelist. Extreme writer. Internet aficionado. Travel scholar. Lifelong problem solver."