It was found that most of the main characters who appeared in Korean films in the past five years were non-disabled Korean men in their 40s living in Seoul and the metropolitan area. The Korean Film Gender Equality Center 'Dunden' analyzed a total of 446 films, including regular films, top 40% independent and art films, and original OTT films from 2017 to 21. Deundeun released the results drafts of its analysis under the theme "Developing Inclusive Indicators for Korean Films and Researching Policy Measures" during the "Korean Film Diversity Week" held from the 20th to the 22nd.
According to the report, in terms of demographics, the concentration of movie characters in Seoul and the metropolitan area was 10.1 percentage points higher than the actual population distribution. On the other hand, the main characters of Busan and Gyeongsang-do were 10.5 percentage points lower than the actual population ratio (24.7%).
The gender of the main characters was 61.6% male and 38.4% female, which is 11.7 percentage points lower than the actual population ratio, where males and females account for nearly half. Despite the recent trend to diversify female characters and expand female narratives, it has been revealed that they are still lacking.
In terms of age, the imbalance between the actual cast and the portrayal in the film was very large. The largest age group for movie protagonists was 40-49, accounting for 25.2%. The actual percentage of the population in this age group is 15.8%. In an aging society, the age of the main characters has increased compared to before, but there is a big gap with reality. People over the age of 60 make up 25.9% of the total population, but only 11.2% of those age brackets have appeared as movie characters. This is a point where more planning and storyline development is needed to present a protagonist that older audiences in their 60s and up can relate to.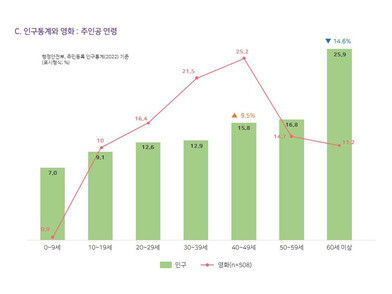 Representation of immigrants in the film was 4%, which was similar to the actual population ratio (3%), and the number of people with disabilities was 9%, slightly above the Ministry of Health's standard of 5%. Health and Wellbeing. Statistics from the Department of Health and Welfare do not include dementia, but this study appears to include dementia. In the case of sexual minorities, referring to foreign countries where LGBTQ people are generally considered to represent around 7% of the total population, the actual number of LGBTQ characters in Korean films is considered to be underrepresented at 3%.
The seven items of the index applied in this study are gender, race, region, class, disability and gender. Foreign media companies such as Disney and Netflix also recently announced diversity statistics reports in 2021 and 2022, respectively, to expand inclusiveness in the works they produce. The strong side said, "Increasing diversity and inclusivity in creation will lead to the discovery and expansion of more diverse audiences and securing the right to enjoy video culture."
Hankyoreh Reporter Kim Eun-hyung dmsgud@hani.co.kr
"Music maven. Introvert. Bacon evangelist. Extreme writer. Internet aficionado. Travel scholar. Lifelong problem solver."